View Presentation as PDF
Why… do we need to change?
Not meeting:
Customer requirements (internal/external)
Goals
Targets
Deadlines
Budgets
Need for:
Revenue
Competitive advantages
Innovation
Application of best practices
New skills
Economic adjustments
Why… do we need change management?
Why do people resist change?
Individuals are typically resistant to change. Why?
10 Reasons people resist change:
Fear of the unknown
"We've tried this before."
"Is there really a need for change?"
Lack of information
Lack of resources
Loss of security
Loss of power
Poor timing
Habit
Too many responsibilities/special projects
The workforce wonders…
Is this just another program?
Is this the 'flavor of the month?'
What's in it for me?
How can I do this on top of everything else?
What strategies can be employed to facilitate change?
Common Mistakes organizations make:
Focus

Effort is not focused on the customer
Focus is on products or services and not processes

Goals, Measurement and Results

Goals are set too low
Results are not obtained quickly (need quick wins)
'Paralysis by analysis'

Overwhelming data collection & analysis
Data not adding value to the process

Personal

Quality is a personal commitment
Reward systems are not in place
Common Mistakes organizations make:
Senior management is not driving it…living it
Silos: organization does not see itself or operate as a collection of interrelated processes
Little real empowerment is seen
The culture remains one of 'command and control'
Training is not addressed
Organization is too complacent
Misalignment with the mission & vision
Keys to success
Buy into what you are selling

Buy-in yourself
Gain buy-in from top management

Foster an entrepreneurial / ownership attitude
Enable risk taking
A simpler plan is better
Use a stepped or phased approach to make it
manageable, with clear action plans
Set measurable, attainable goals
Establish a sense of urgency
The more people on the bus the better!
Identify "Change Agents" – those that readily accept change and can promote change to get people on the bus.
Choose Change Agents that are:
Get them excited about the changes.
Gain support from management

Physical
Emotional
Resources
Gaining and maintaining momentum early will yield greater successes later.
Plan for "Quick wins"

To provide early momentum for change
To get people on board
To foster excitement

Use benchmarks

and benchmark organizations
If it can be done by others, it can be done by us

Identify:

Milestones
Timelines
The finish line

Recognize /Reward along the journey
5 'I's: Key Mechanisms for Overcoming Resistance
Information – educate; dispel uncertainty and fear
Indoctrination – make changes seem inevitable
Intervention –

Communication strategy/plan (groups; one-on-one)
Provide/acquire resources
Contingency plans

Involvement

Make people part of the solution
Negotiation and agreement

Incentives

Share positive incentives
Share negatives if change does not occur
Get naysayers off the bus (early)
The Transformational Change Model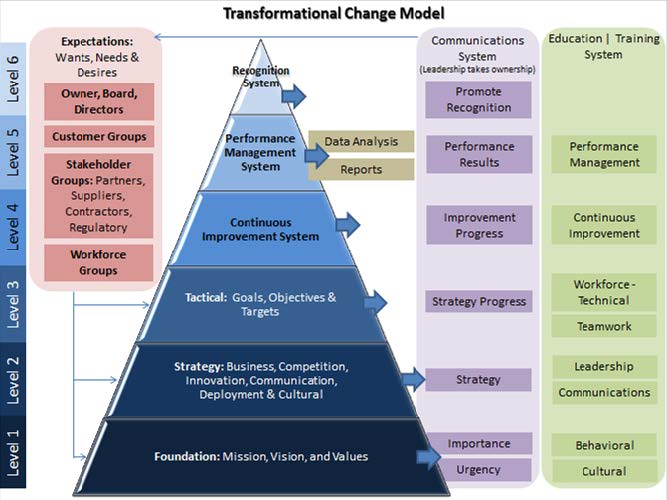 The Model
6 Levels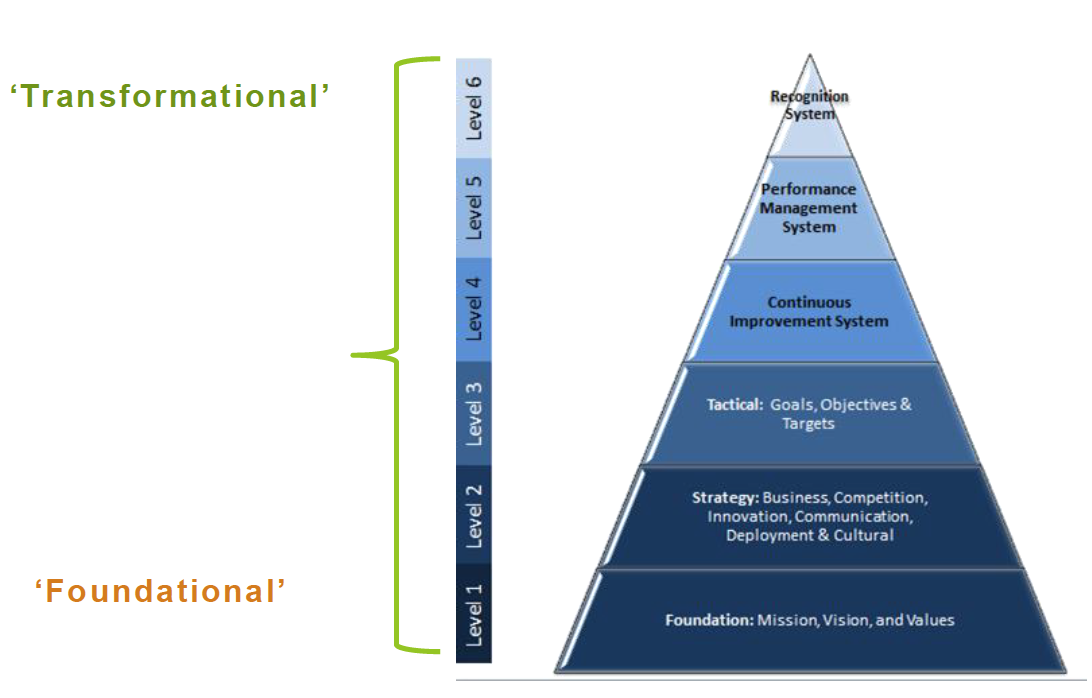 The need for change starts and ends with the customer.
Know your Customer AND stakeholder expectations
Involve them with your Strategies and tactics
Balancing the needs of customers AND stakeholders is important.
START HERE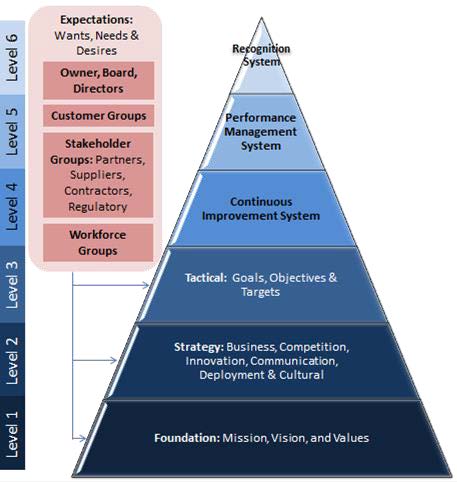 For most companies communication is the number one concern.
From workforce surveys
Have a parallel communication system aligned with your levels.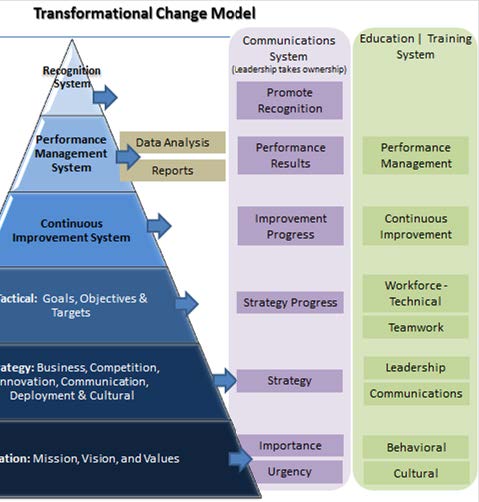 An Education System is needed to support transformational change.
Ask.
Make it SYSTEMatic. (More on this later)
Workforce competency improves change acceptance.
A strong foundation is fundamental to begin the change process.
Such a foundation includes developing:
A Mission
A Vision
Strong Core Values
Leaders must create a sense of urgency.
And maintain this urgency
Significant emphasis is needed at the start
Leaders must also communicate the importance …the 'Whys' for change
Education is needed to address cultural behaviors
Observe behaviors
Evaluate the culture for alignment
Establish expectations early
Establishing strategies builds confidence.
Stakeholder confidence
Examples:

Business improvement
Process improvement
Financial gains
Competitiveness improvement
Innovation
Communications
Deployment
Cultural change
Strategies need plans for implementation
Possible strategic plan components:

Implementation Plan
Communications Plan
Education/Training Plan
Performance Management Plan
Cost Management Plan
Stakeholder Management Plan
Contingency / Scenario Plan(s)
The Strategic Plan must be communicated and referred to nearly constantly.
 Emphasize:

Roles
Responsibilities
Expectations
Accountability
Leadership, managers and the workforce need to understand…
The strategy
The planning and implementation process
The communications process
Therefore, education and training is imperative.
Supervisory / middle management is the most critical level.
They translate the strategy to the workforce.
Middle managers must be targeted for understanding and commitment.
Tactical plans should align with the strategic areas.
Tactical plans should include goals and objectives.
Actions should align with the major tactics.
For momentum and buy-in, continuous sharing of progress is critical.
Multiple forms of communication are needed.
Workforce segments require (want) varying communication.
Ask.
Tactical actions require teamwork.
Teambuilding
Technical competencies are essential as well.
A plan is needed to provide technical skill training for the workforce.
Continuous improvement systems are required to implement strategy.
System examples:

Plan-Do-Check-Act
Lean Six Sigma
Project management

Improved processes need to be 'SYSTEMatic.'
Again, for momentum results need to be shared (constantly).
Results examples:

Performance indicators
Measures/metrics
Satisfaction levels
Scheduled accomplishments
Milestones
New processes/programs
The understanding of continuous improvement systems are often unknown.
Yet, teams are expected to apply them.
Education and training is needed on the effective use of:
Such processes/systems
Tools used and available to deploy such systems
See SYSTEMatic presentation.
'What gets measured gets managed, and what gets managed gets done.'
Strategic Key Performance Indicators (KPIs)
Performance Indicators (PIs) also need to be:

Rolled-up into KPIs (hierarchy)
Leading and lagging indicators

The most critical piece.
The best arranged plans are only qualified through performance results.
A diligent and disciplined focus on performance is needed.
Data should be analyzed and the results shared.
A SYSTEMatic reporting program is crucial.
Managers and the workforce need to be able to appropriately interpret and understand results.
Therefore, education and training is required regarding performance management.
'…what gets rewarded gets repeated.' – John Schnatter, founder of Papa John's
A 'SYSTEMatic' reward and recognition program is essential.
A focus is needed in multiple areas, from multiple directions.
Leadership must make this a habit AND be directly involved.
Considering the criticality of recognition…
Leadership needs to communicate the importance and frequencies
High expectations must be set
Learning should be used as an input into establishing future expectations.
Learning occurs through the communication processes;
So, communication should be two way.
Rolled back into continuous improvement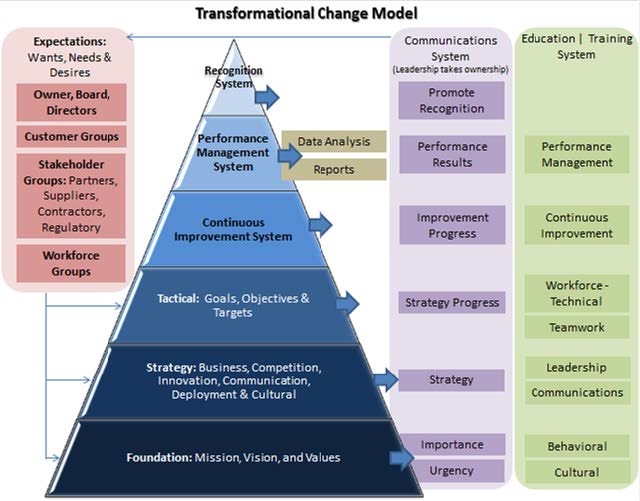 In Summary
A holistic and systematic approach is necessary for effectively changing the culture of an organization
Missing of even one piece of the model can result in drastic reductions of effectiveness
Approach development and deployment one step and one level at a time
www.CompetitiveEdgePerformance.net
Contact Information:
CompetitiveEdgePerformance.net
Rick Bickerstaff
Rick@CompetitiveEdgePerformance.net
843.297.2596
For more information, please feel free to contact us!