The Baldrige Performance Excellence Framework (Baldrige Criteria) is a criterion that has been used by companies all over the world to improve their efficiencies, effectiveness, and competitiveness. I refer to it as "ISO 9001 on steroids."
This Criteria was initially established in 1986 by President Ronald Regan to help improve the competitiveness of U.S. companies in a global market.  Every U.S. State has a quality program and associated awards based on this Criteria (example: www.SCQuality.com).  The ultimate goal is to attain the Malcolm Baldrige National Quality Award. For more information, visit NIST's website here and ASQ's website here.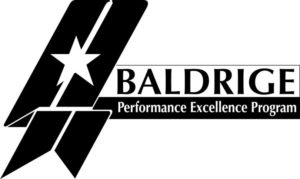 The focus of the Criteria is to help organizations get better and become more competitive.  The Criteria focuses on seven (7) primary categories:
Leadership (Nothing impacts an organization more than this; strong, engaged leadership steers the company.)
Strategy (Becoming more knowledgeable about your competitive environment will further success. Many companies establish a strategic plan, but implementing it is the hardest part.)
Customers (Everything you do should focus on 'Wowing' your customers! Knowing what their expectations are and how you are meeting them are key.)
Measurement, Analysis and Knowledge Management (Knowing what to measure and maintaining a systematic framework for measurement helps maintain a focus on what is most important.)
Workforce (You just can't win with a competent and engaged staff; they do the heavy lifting and represent your company. A happy staff results in happy customers!)
Operations (Every company is unique, and a focus on why your company is unique and what you are doing to increase market share is imperative.)
Results (If you really get down to it, it's all about results.  This includes setting goals and targets, and comparing your results with your targets as well as to others in your industry.)
The Criteria helps you ask the right questions to get better.  For example: Is your organization doing as well as it could? How do you know? What and how should your organization improve or change?
Improvement is a journey.  Making a commitment to using the Criteria is the first step.  The good news is that this Criterion can be used by the smallest organization to the largest. Let us help you grow, get better, and become more competitive.
See the most current S.C. winners at www.SCQuality.com.  Learn more about the Criterion and Baldrige Program at https://www.nist.gov/baldrige; http://asq.org/learn-about-quality/malcolm-baldrige-award/overview/overview.html.