The Baldrige Performance Excellence Program is an integrated approach to organizational performance management. Organizations that have received the Award have seen: increased revenue, decreased cycle time, improved product reliability, greater customer satisfaction and much more!
"While other approaches focus on a single aspect, such as leadership or process management, the Baldrige Criteria provide an integrated management framework that addresses all the factors that define an organization's operations and results. And the process is compatible with Lean and Six Sigma strategies as well as ISO 9000."


Robert W. Galvin, chairman, Baldrige Award winner Motorola Commercial, Government & Industrial Solutions Sector
The criteria are outlined in the infographic below.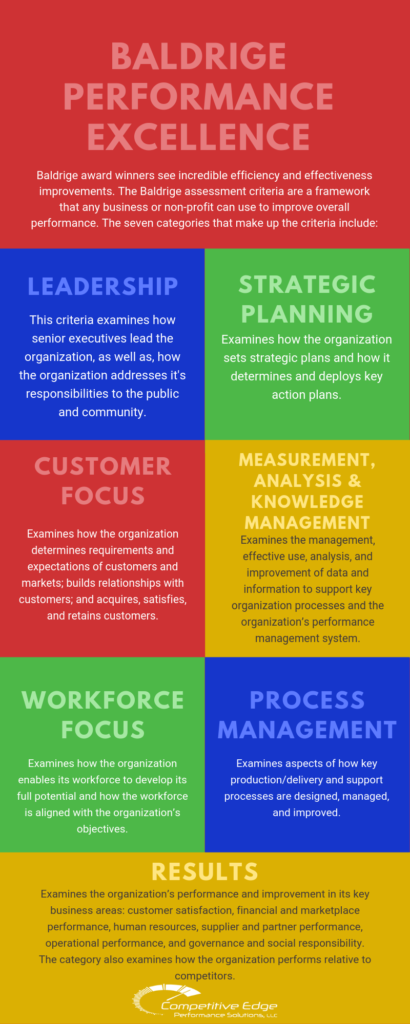 The seven criteria include:
Leadership—This criteria examines how senior executives lead the organization, as well as, how the organization addresses its responsibilities to the public and community.
Strategic planning—Examines how the organization sets strategic plans and how it determines and deploys key action plans.
Customer focus—Examines how the organization determines requirements and expectations of customers and markets; builds relationships with customers; and acquires, satisfies, and retains customers.
Measurement, analysis, and knowledge management—Examines the management, effective use, analysis, and improvement of data and information to support key organization processes and the organization's performance management system.
Workforce focus—Examines how the organization enables its workforce to develop its full potential and how the workforce is aligned with the organization's objectives.
Process management—Examines aspects of how key production/delivery and support processes are designed, managed, and improved.
Results—Examines the organization's performance and improvement in its key business areas: customer satisfaction, financial and marketplace performance, human resources, supplier and partner performance, operational performance, and governance and social responsibility. The category also examines how the organization performs relative to competitors.