View Presentation as PDF
Baldrige Performance Excellence Web Resources
Systematic Processes Yield Results
Agenda
Results
History
The National Malcolm Baldrige Quality Award
What is the Baldrige Excellence Framework?
Why use it?
Who should use Baldrige?
It's all about 'Results'
45% of the scoring is results
Results:
Efficiency
Effectiveness
Competitiveness
Sustainability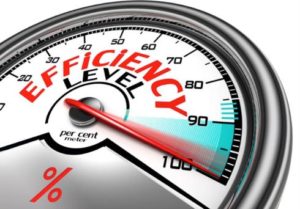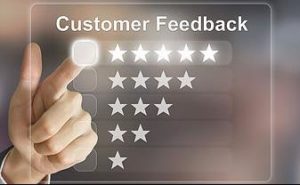 Baldrige award winners have seen drastic efficiency and effectiveness improvements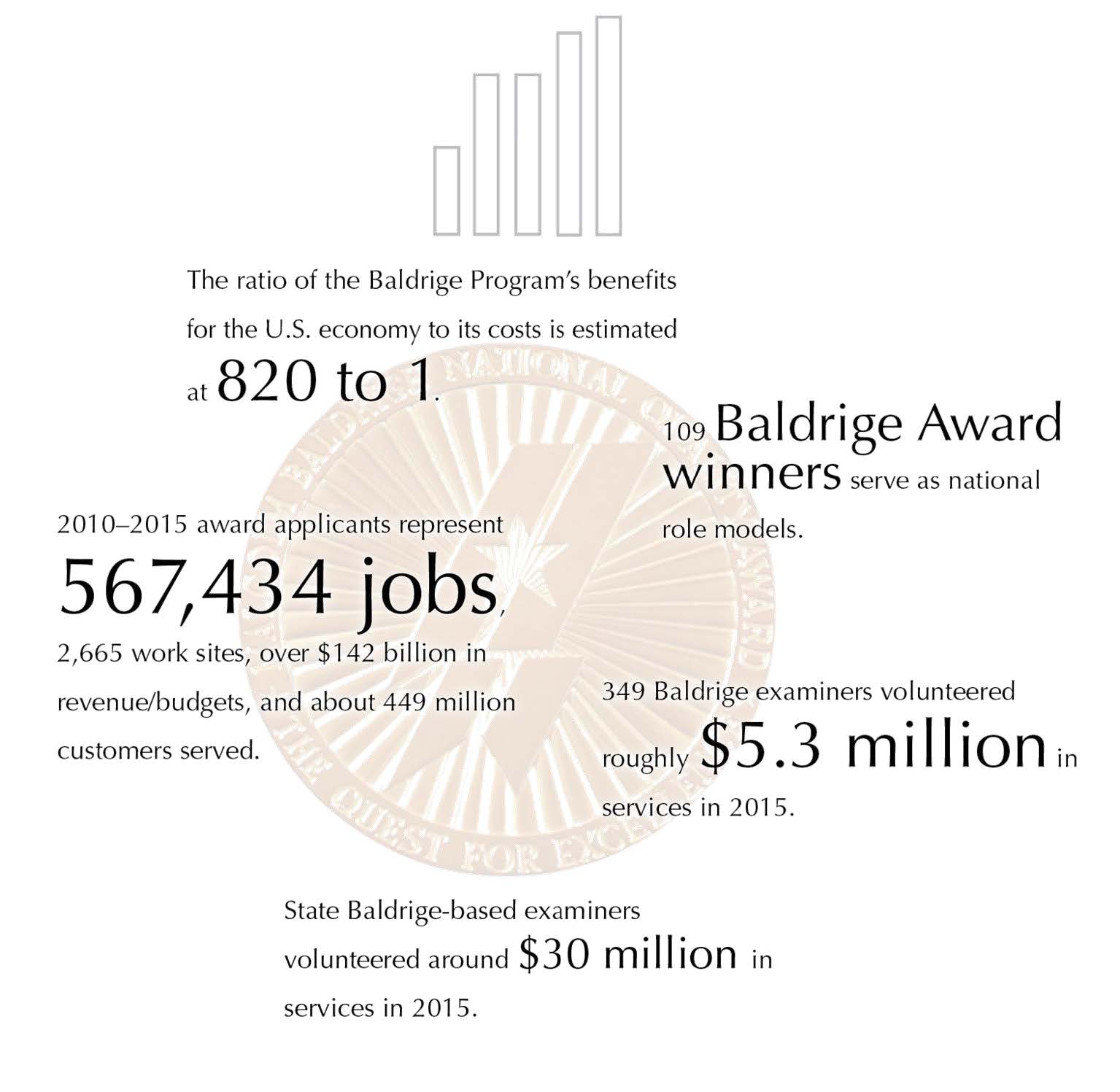 History
Why was the Baldrige Performance Excellence Program established?
History
Foreign companies were producing higher quality products
U.S. companies were losing market share
President Regan wanted a new standard for quality in the U.S.
Program History
Malcolm Baldrige National Quality Improvement Act of 1987, Public Law 100-107

Created award program to

establish criteria for evaluating improvement efforts
identify/recognize role-model businesses
disseminate/share best practices

Expanded to health care and education (1998) and to nonprofit sector (2005)
The National Malcolm Baldrige Quality Award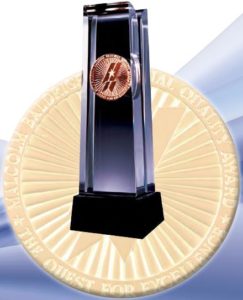 About the Award
Presidential award
Highest level of national recognition for performance excellence
Traditionally presented by the President of the United States
Eligibility Categories
Manufacturing
Service
Small business
Education
Health care
Nonprofit
Award Recipients:
Manufacturing
3M Dental Products Division (1997)
ADAC Laboratories (1996)
Armstrong Building Products Operations (1995)
AT&T Transmission Systems Business Unit (1992)
The Bama Companies, Inc. (2004)
Boeing Airlift & Tanker Programs (1998)
Cadillac Motor Car Company (1990)
Cargill Corn Milling North America (2008)
Clarke American Checks, Inc. (2001)
Corning Telecommunications Products Division (1995)
Dana Corporation—Spicer Driveshaft Division (2000)
Eastman Chemical Company (1993)
Honeywell Federal Manufacturing & Technologies (2009)
IBM Rochester (1990)
KARLEE Company, Inc. (2000)
Lockheed Martin Missiles and Fire Control (2012)
MEDRAD, Inc. (2003, 2010)
Milliken & Company (1989)
Midway USA (2009)
Motorola CGISS (2002)
Motorola, Inc. (1988)
Nestlé Purina PetCare Co. (2010)
Solar Turbines Inc. (1998)
Solectron Corporation (1991 and 1997)
STMicroelectronics—Region Americas (1999)
Sunny Fresh Foods, Inc. (2005)
Texas Instruments Defense Systems & Electronics Group (1992)
Westinghouse Commercial Nuclear Fuel Division (1988)
Xerox Corp. Business Products & Systems (1989)
Zytec Corporation (1991)
Service
AT&T Consumer Communications Services (1994)
AT&T Universal Card Services (1992)
BI (1999)
Boeing Aerospace Support (2003)
Caterpillar Financial Services Corp. U.S. (2003)
Dana Commercial Credit Corporation (1996)
DynMcDermott Petroleum Operations (2005)
Federal Express Corporation (1990)
GTE Directories Corporation (1994)
Merrill Lynch Credit Corporation (1997)
Operations Management International, Inc. (2000)
PricewaterhouseCoopers Public Sector Practice (2014)
Premier Inc. (2006)
The Ritz-Carlton Hotel Company, L.L.C. (1992, 1999)
Xerox Business Services (1997)
Small Business
Ames Rubber Corporation (1993)
Branch-Smith Printing Division (2002)
Custom Research Inc. (1996)
Freese and Nichols Inc. (2010)
Globe Metallurgical Inc. (1988)
Granite Rock Company (1992)
K&N Management (2010)
Los Alamos National Bank (2000)
Marlow Industries, Inc. (1991)
MESA (2006, 2012)
MidwayUSA (2009, 2015)
Pal's Sudden Service (2001)
Place Lexus (2005)
PRO-TEC Coating Company (2007)
Stoner, Inc. (2003)
Studer Group (2010)
Sunny Fresh Foods (1999)
Texas Nameplate Co., Inc. (1998, 2004)
Trident Precision Manufacturing, Inc. (1996)
Wainwright Industries, Inc. (1994)
Wallace Co., Inc. (1990)
Education
Charter School of San Diego (2015)
Chugach School District (2001)
Community Consolidated School District 15 (2003)
Iredell–Statesville Schools (2008)
Jenks Public Schools (2005)
Kenneth W. Monfort College of Business (2004)
Montgomery County Public Schools (2010)
Pearl River School District (2001)
Pewaukee School District (2013)
Richland College (2005)
University of Wisconsin–Stout (2001)
Health Care
Advocate Good Samaritan Hospital (2010)
AtlantiCare (2009)
Baptist Hospital, Inc. (2003)
Bronson Methodist Hospital (2005)
Charleston Area Medical Center Health System (2015)
Heartland Health (2009)
Henry Ford Health System (2011)
Hill Country Memorial (2014)
Mercy Health System (2007)
Award Recipients: Health Care
North Mississippi Medical Center (2006)
North Mississippi Health Services (2012)
Poudre Valley Health System (2008)
Robert Wood Johnson University Hospital Hamilton (2004)
Saint Luke's Hospital of Kansas City (2003)
Schneck Medical Center (2011)
Sharp HealthCare (2007)
Southcentral Foundation (2011)
SSM Health Care (2002)
St. David's HealthCare (2014)
Sutter Davis Hospital (2013)
Nonprofit
City of Coral Springs, Florida (2007)
City of Irving, Texas (2012)
Concordia Publishing House (2011)
Elevations Credit Union (2014)
Mid-American Transplant Services (2015)
U.S. Army Armament Research, Development and Engineering Center (ARDEC; 2007)
Veterans Affairs Cooperative Studies Program Clinical Research Pharmacy Coordinating Center (2009)
This year's [Baldrige Award] recipients have shown how quality, innovation, and an unending quest for excellence help strengthen our nation and brighten the future of all Americans.

—President Barack Obama
Baldrige Excellence Framework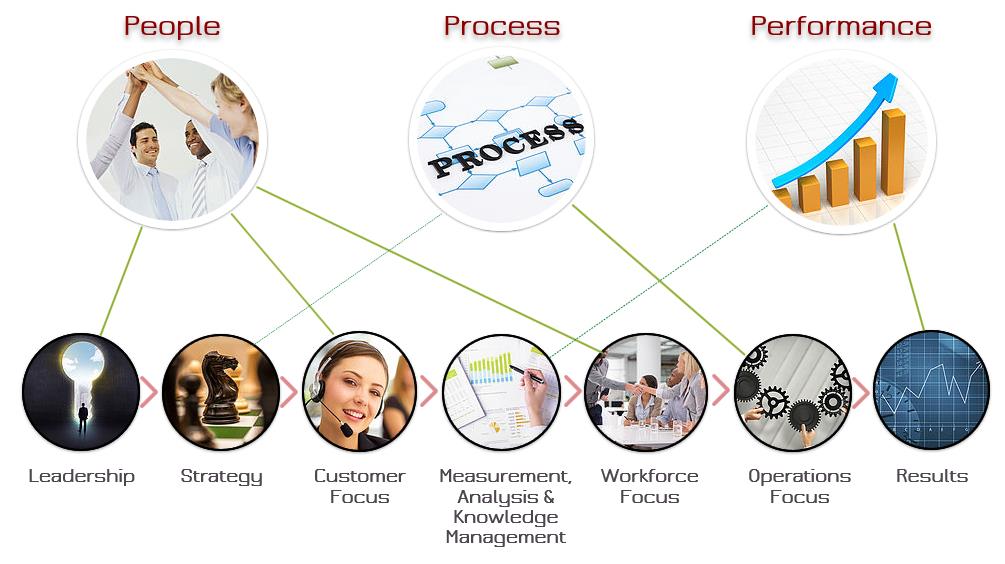 Baldrige Excellence Framework Integrated Management Framework
Emphasis on:
Integration
Innovation
Results
Sustainability
Nonprescriptive
Holistic
Inclusive
Adaptable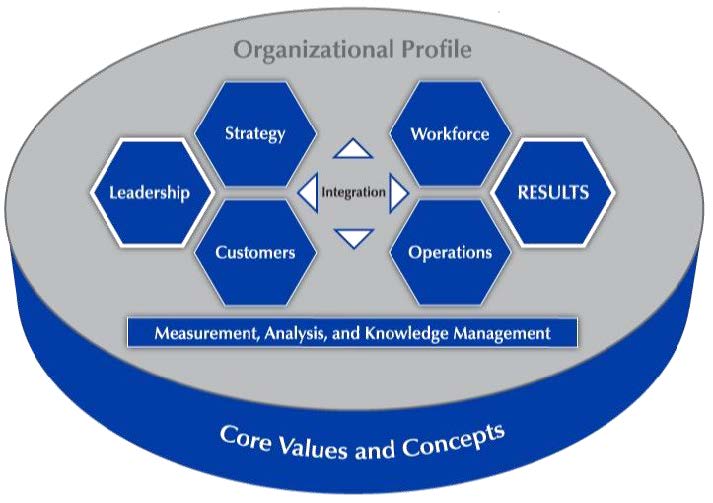 While other approaches focus on a single aspect, such as leadership or process management, the Baldrige Criteria provide an integrated management framework that addresses all the factors that define an organization's operations and results. And the process is compatible with Lean and Six Sigma strategies as well as ISO 9000.

—Robert W. Galvin, chairman, Baldrige Award winner Motorola Commercial, Government & Industrial Solutions Sector
The Baldrige Criteria promotes:
ISO Standards
Lean
Six Sigma
PDCA
Innovation
Intelligent risk taking
Product life cycle
The Baldrige Criteria promotes:
Systematic processes
Root cause analyses
Supply chain management
Benchmarking
Performance analyses
Decision sciences
Why Use Baldrige?
Benefits:
Higher productivity
Greater customer loyalty
Increased market share
Improved profitability
Better employee relations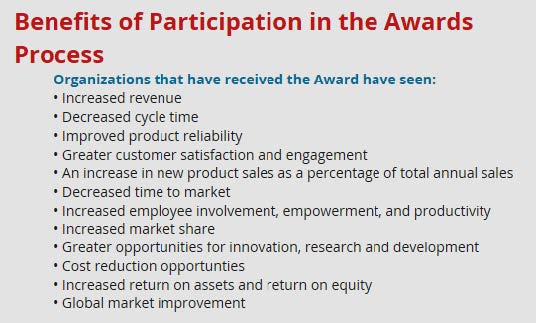 Baldrige Performance Excellence
An integrated approach to organizational performance management that results in

delivery of ever-improving value to customers and stakeholders, contributing to organizational sustainability
improvement of overall organizational effectiveness and capabilities
organizational and personal learning
It's all about continuous improvement. . . . By embracing all of the key dimensions of Baldrige, the company has doubled in size this year as a business of Bayer Health Care. We are $690 million in revenue, as of the end of 2010.

—Samuel Liang, president and CEO, two-time Baldrige Award winner MEDRAD
Who should use Baldrige?
Business Sectors:


Those seeking a higher level of:
Leadership
Strategic planning
Customer service and engagement
Measurement & knowledge management
Workforce satisfaction and engagement
Process improvement
Results
Those seeking a higher level of Quality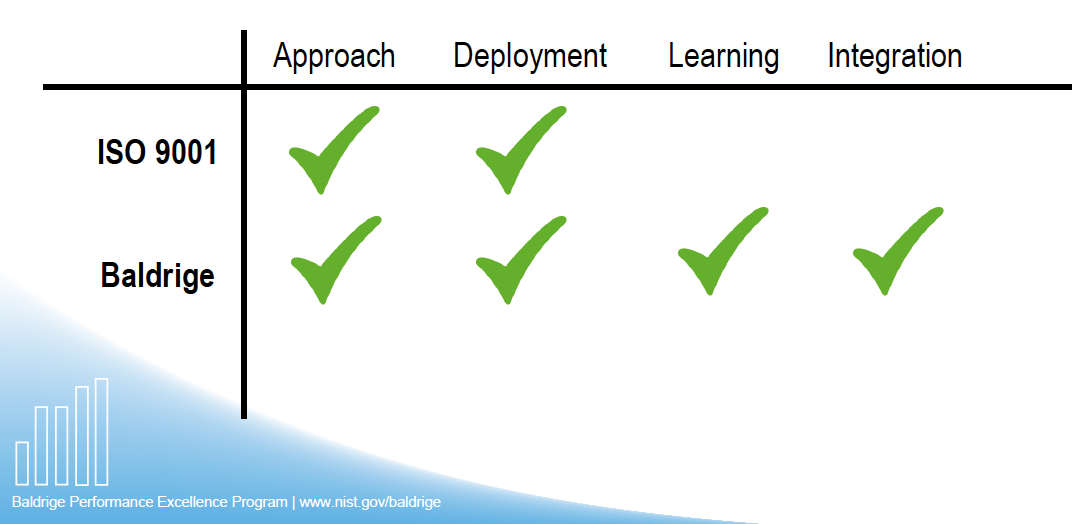 Those seeking a higher level of Results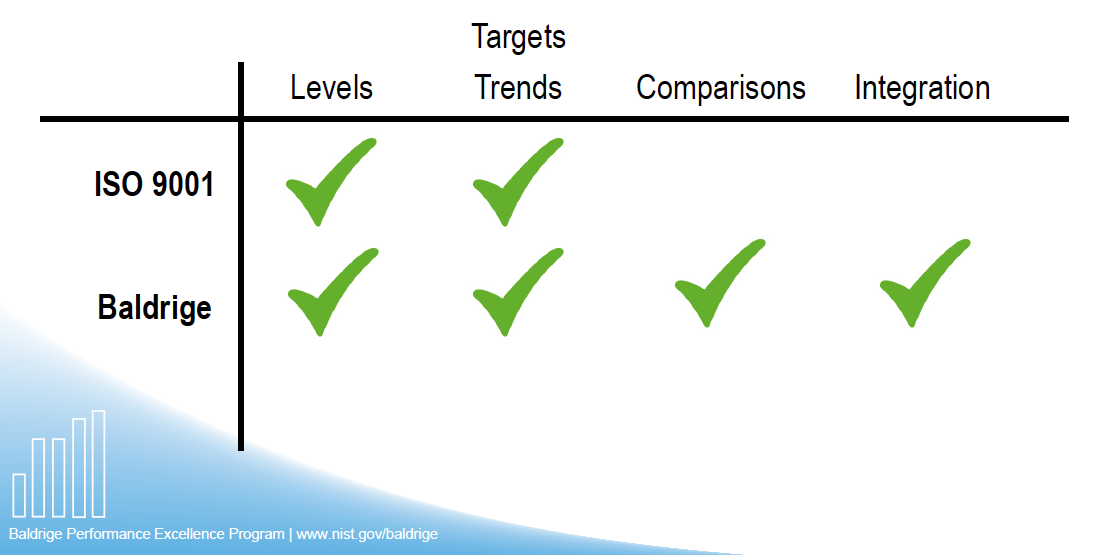 If you want the benefits of applying the Baldrige Performance Excellence Criteria, contact us at:
Rick Bickerstaff
843.297.2596
Rick@CompetitiveEdgePerformance.net
CompetitiveEdgePerformance.net